Something About Leigh Willows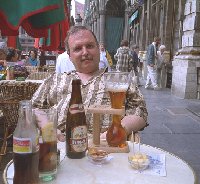 "I was born at a very early age", in Leeds, Yorkshire. This area is now a place of veneration, and recognised as one of the most important sites in the world. This can also be deduced that all other places are indicated by reference to Leeds. London, for instance, is "the South", Newcastle, "the North", New York, "abroad". Although I am almost as honoured to be born in Yorkshire as Yorkshire is to have me as one of its sons, I confess to being removed from the county slightly before my first birthday.

My early years were spent in Stockport, where I attended Adswood Primary School, and then Cheadle Hulme School. In my day, CHS was unique, as it was (allegedly) the only co-educational, part boarding, direct grant school in the country - things have changed since then. I left for a short period in the merchant navy, working for BP, during which I saw a lot of sea, a little of the Middle East, and discovered that the French you're taught at school isn't necessarily useful in the real world.
Realising that this wasn't the career for me, I came ashore, completed my "A" levels, and then studied economics at Bangor. (or as it liked to be called then, UCNW)

After graduating I have worked for Revertex Acoustic Products, Bernard Wardle, Trent Regional Health Authority, Birds Eye Wall's, and (currently) Exel Logistics


One of my continuing interests (and I confess to fads) is boating of various sorts. I started by dinghy sailing and canoeing as a child on our holidays in Anglesey, continued with my spell on tankers (see above), and then the family had a couple of canal boats, the second of which I took over for a while.

Currently my only boat is a windsurfer which has stayed in the garage since we moved, waiting for me to lose enough weight for it to support me. This is an improvement on the situation in my previous house, in Derby, where it had to share the dining room. Believe me, that's when you realise how large these things really are!