&nbsp.. to Sandra & Leigh's Home Page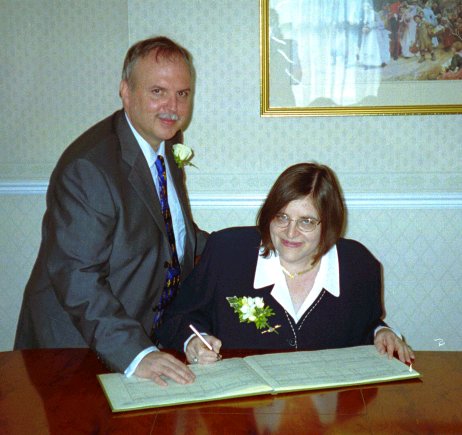 This is us at our wedding on May 8th 1999. You can also find a version of us at Marquenterre (a French bird sanctuary) if you really want to. You might want to know more about Leigh or Sandra You can also find information about interests, holidays or about our bears. (Please note: the bears have put a lot of pictures on their page. You may wish to avoid this if you have a slow connection). There are a few other around who don't really count for that page - their pictures are here.
We will also keep a list of links to all sorts of things, that we will probably find more interesting than you will. In fact, this is really our "bookmark" or "favourites" file (depending on your browser of choice), but by keeping it on the Website, you can use it too.



Send me a message - let me know what you think
people (including me) have visited this site since 8th February 1998.
Work began 5th April 1995 - 10 years, and still under construction! - Last Amended: 16 April 2005
Hosted by Force9 Internet
Unless stated, all photographs on these pages are &copy L Willows